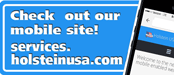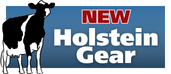 Holstein Association USA, Inc., the world's largest dairy cattle breed organization, is a dynamic, innovative, growing organization located in Brattleboro, Vermont. We are currently seeking a Technical Support Analyst to support our Information Services Team.
The Technical Support Analyst will provide technical assistance to end users by maintaining operations of all PC hardware, printers, and related software, documenting interactions with end users, recommending improvements, and documenting all system operations. This individual will also install, implement, and support office automation products within the Network environment and is responsible for evaluating operational efficiency of different IT systems.
The successful candidate will need a degree in Information Technology, Computer Science or related equivalent, and a minimum of two year's work experience and/or training. Working knowledge of computer hardware, operating systems, networking basics and backup systems is necessary. Demonstrated competency in the use of MS Office software (Word, Excel, PowerPoint, and Visio) is essential. Excellent verbal and written communications, interpersonal and organizational skills are required. Ability to work creatively and analytically in a problem-solving environment, and the ability to work well with others in a team environment is a must. After hours on-call availability may be required.
As a valued team member, you will receive a competitive wage and an excellent benefit package. If you meet these qualifications, please forward your resume and references to:
Human Resources
Holstein Association USA, Inc.
1 Holstein Place, PO Box 808 Click Here to submit your resume online.
Brattleboro, VT 05302-0808
Fax: (802) 451-4097
Equal Opportunity Employer

Holstein Association USA, Inc., the world's largest dairy cattle breed organization, is a dynamic, innovative, growing organization located in Brattleboro, Vermont. We are currently seeking a Java Developer to join our Information Services Team.

The Java Developer is responsible for analyzing user specifications and requirements that reflect the business needs and delivering high-quality software solutions to meet those business needs. This individual must assist in design, develop, test, maintain and modify software programs according to specifications, verifying logic, perform necessary debugging, and writing related documentation.

The successful candidate will have a Bachelor's degree; and a minimum of 5+ years of related experience. Extensive experience in Java, J2EE, JEE technologies. Excellent working knowledge of front end technologies such as HTML, XHTML, XML, XSLT, CSS, and JavaScript. Excellent working knowledge of MVC architecture and Struts, Spring MVC and JSF Frameworks, and Messaging and Web Services. Demonstrated experience developing, building, and deploying applications on Linux platforms.

Candidate must have the ability to contribute to a high-performing, motivated workgroup by applying excellent interpersonal and collaborations skills to achieve project goals and realize value. Must have excellent verbal and written communication skills and time management skills.

As a valued team member, you will receive a competitive wage and a great benefit package including a comprehensive medical/dental/disability program, 401(k), paid time off including holidays. All set in a pleasant, professional working atmosphere. Holstein Association USA, Inc. has a strong commitment to diversity and welcomes applications from all individuals. EOE M/F/D/V.

If you meet these qualifications, please forward your resume and references to:
Human Resources
Holstein Association USA, Inc.
1 Holstein Place, PO Box 808 Click Here to submit your resume online.
Brattleboro, VT 05302-0808
Fax: (802) 451-4097
Equal Opportunity Employer

Holstein Association USA, Inc., the world's largest dairy cattle breed organization, is a dynamic, innovative, growing organization located in Brattleboro, Vermont. We are currently seeking an IT Project Manager to join our Information Services Team.

The IT Project Manager is responsible for the overall direction, coordination, implementation, execution, control and completion of specific projects ensuring consistency with company strategy, commitments and goals.

The successful candidate will have a Bachelor's degree; and a minimum of 5+ years of related experience. Proficiency with industry-standard software programs and applications is essential. Demonstrated competency in the use of MS Office software (Word, Excel, PowerPoint, Project, and Visio). Experience with major SDLC methodologies. Demonstrated business experience in requirements analysis and system design. Experience in software development management with strong understanding of relational databases (i.e. Informix, MS SQL, MySQL, Oracle) and web development technologies utilizing, CSS, HTML, JavaScript with JQuery, PHP and Java. Knowledge or experience with Spring Framework and Linux is desirable.

Candidate must have the ability to contribute to a high-performing, motivated workgroup, as well as, the ability to work collaboratively in a team environment. Superior verbal and written communication skills is required, as is the ability to gather and analyze user requirements, facilitate the definition of project scope, goals and deliverables, develop and lead full scale project plans while providing direction and support to project team.

As a valued team member, you will receive a competitive wage and a great benefit package including a comprehensive medical/dental/disability program, 401(k), paid time off including holidays. All set in a pleasant, professional working atmosphere. Holstein Association USA, Inc. has a strong commitment to diversity and welcomes applications from all individuals. EOE M/F/D/V.

If you meet these qualifications, please forward your resume and references to:
Human Resources
Holstein Association USA, Inc.
1 Holstein Place, PO Box 808 Click Here to submit your resume online.
Brattleboro, VT 05302-0808
Fax: (802) 451-4097
Equal Opportunity Employer

Holstein Association USA, Inc., the world's largest dairy cattle breed organization, is a dynamic, innovative, growing organization located in Brattleboro, Vermont. We are currently seeking a Technical Analyst to join our Information Services Team.

The Technical Analyst will analyze and evaluate business processes, productivity and overall business strategies. This individual must be able to analyze the current landscape, understand business requirements/processes, and facilitate solution conversations. The Technical Analyst will apply communication, analytical, and problem-solving skills to help maximize the benefit of IT system investments.

The successful candidate will have a Bachelor's degree and a minimum of four years related experience. Proficiency in using MS Office software (Word, Excel, PowerPoint, Project, and Visio). Experience planning/coordinating/leading business testing efforts for medium to large sized projects.

Candidate must have the ability to contribute to a high-performing, motivated workgroup, as well as, the ability to work collaboratively in a team environment. Excellent verbal and written communication skills, ability to define problems, collect data, establish facts, draw valid conclusions, and interpret a variety of instructions furnished in written, verbal, diagram, or schedule form is required.

As a valued team member, you will receive a competitive wage and a great benefit package including a comprehensive medical/dental/disability program, 401(k), paid time off including holidays. All set in a pleasant, professional working atmosphere. Holstein Association USA, Inc. has a strong commitment to diversity and welcomes applications from all individuals. EOE M/F/D/V.

If you meet these qualifications, please forward your resume and references to:
Human Resources
Holstein Association USA, Inc.
1 Holstein Place, PO Box 808 Click Here to submit your resume online.
Brattleboro, VT 05302-0808
Fax: (802) 451-4097
Equal Opportunity Employer