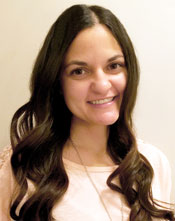 BRATTLEBORO, Vt., March 15, 2017- Holstein Association USA welcomes a new Regional Sales Representative to their team. Regional Sales Representatives are located throughout the country and are focused on helping dairy producers increase profitability by using the Association's services.
Lacey Papageorge of Ogden, Utah, works with dairy producers in Colorado, Idaho and Utah. Papageorge, a 2016 graduate from Utah State University, holds a Bachelor of Science in Animal Science with emphasis in dairy, and a minor in Agriculture Business. Before joining the Association, she had interned in the dairy nutrition industry and at the Utah State 4-H office.
"Regional Sales Representatives provide support for products and services to our members and help to assist dairies in implementing new technologies on their farm. They are essential to our membership," says Steve Peterson, National Sales Manager.
Along with Papageorge, there are eighteen other Regional Sales Representatives representing the Association in the field. These dairy experts help producers utilize Association programs to improve their herds and increase their bottom lines. To find which Regional Sales Representative covers your area or contact the Representative, visit www.holsteinusa.com.

BRATTLEBORO, Vt., March 13, 2017- Holstein Association USA is currently seeking applications for adult representatives from Areas III and IV on the Junior Advisory Committee (JAC). The JAC serves as a sounding board for Junior members and advisors on Holstein youth programs. Applications must be submitted to Holstein Association USA by April 1st for consideration.
The current adult representatives from Areas III and IV will be completing their terms at the National Junior Holstein Convention this June. Area III is made up of Illinois, Iowa, Minnesota, North Dakota, South Dakota and Wisconsin. Area IV covers Arkansas, Arizona, California, Colorado, Idaho, Kansas, Missouri, Montana, Nebraska, Nevada, New Mexico, Oklahoma, Oregon, Texas, Utah, Washington and Wyoming.
Adult representatives bring valuable perspective and direction to the committee and are eligible to serve up to two two-year terms. The committee meets annually, via conference call or in-person, to discuss Junior Holstein Association matters, and attendance at the National Junior Holstein Convention is required, as the committee assists with coordinating events and carrying out activities.
Ideal committee members will be knowledgeable about Junior Holstein programs; have a strong communication network with members in their designated area; must commit to attending JAC meetings and the National Holstein Convention; and must display the highest standards of ethics and commitment to youth programs.
Learn more about the JAC or download an application at www.holsteinusa.com/juniors/content/membership.html. With questions or for more information, contact Kelli Dunklee, youth programs specialist, at 800.952.5200, ext. 4124 or by email.

BRATTLEBORO, Vt., March 10, 2017- Holstein Association USA (HAUSA) invites all to view videos from the recent Member Update Meeting. The meeting was held in conjunction with the Pennsylvania Holstein Association State Convention.
This is the fourth year that HAUSA has recorded its Member Update Meeting and posted videos online. They can be viewed at www.youtube.com/HolsteinUSA or by visiting the Holstein USA website, www.holsteinusa.com and click on Meetings & Conventions in the main menu, then select Member Update Meeting.
The meeting is broken down into several sections for ease of viewing. See the following video presentations:
John Meyer, HAUSA CEO - 2016 State of the Association Address
John Burket, director - HAUSA Director Elections
Jodi Hoynoski, HAUSA executive director of identification and member services - Holstein COMPLETE

®

and Holstein Tags
John Meyer and Lindsey Worden, HAUSA executive director of genetic services - Promoting Policy for our Members
Tom Thorbahn, Holstein Foundation board of trustees chairman; Frank Conyngham, former trustee and legacy society member and James Hoffman, Young Dairy Leaders Institute graduate - Why Support the Holstein Foundation
Ashley Mohn, HAUSA communications coordinator - Calendar of Events
For more information, visit www.holsteinusa.com, or call 800.952.5200.

BRATTLEBORO, Vt., February 3, 2017- Holstein Association USA, Inc. officially identified an all-time record number of Holstein cattle in 2016 through their registration and Basic ID programs. In total, 690,553 Holsteins were identified in 2016, which is 108,867 more or 18 percent higher than 2015. Registrations totaled 377,305 and 313,248 head were enrolled in the Basic ID program.
The Basic ID program is a stepping stone to full registry status. Participation in Holstein Association USA identification programs has never been higher.
According to Holstein Association CEO John M. Meyer, "These statistics speak to the value dairy producers realize from Holstein Association identification programs. As we all know, the dairy economy was tough in 2016. Even so, dairymen across the country continued to increase their participation in our programs."
When asked for the reason for the popularity of Holsteins, Meyer stated, "The market versatility of Holstein milk continues to pay dividends to Holstein breeders. Those looking to maximize Cheese Yield have 335 Holstein bulls to choose from with Cheese Merit Dollar indexes of 820 CM$ or higher. By comparison, no other breed has any bulls with a Cheese Merit Dollar index of 820 CM$ or higher."
Meyer continues, "One of the great things about being in the Holstein business is that we have a bountiful array of diversified genetics to choose from that allows dairies to be the best in class in any dairy market they want to be in. The large volumes of high quality milk produced by Holsteins are coveted in all dairy markets."

BRATTLEBORO, Vt., February 2, 2017- Registration is now open for the Holstein Association USA 2017 Judges Conference, which will be held Friday, April 7, in Stillwater, Oklahoma, in conjunction with the Southern Spring National Show.
The one-day conference will run from 8 a.m. to 1 p.m. Interested participants can register for the conference on the Holstein Association USA website with a credit card. The pre-registration fee is $50, which closes two weeks before the conference, on March 24. Late registrants and walk-ins will pay a $100 fee. To attend the conference, you must be 22 years old by the day of the conference.
The conference will include judging classes as well as cow-side classroom sessions. Participants will judge six high-quality Holstein classes, one of which will be assigned for oral reasons.
If you plan to apply for the Holstein Association USA Judges List in the future, you must first attend and receive a satisfactory rating at a Holstein Association USA Judges Conference before applying. If you are already on the Holstein Association USA Judges List, you must attend and receive a satisfactory rating at a Holstein Association USA Judges Conference every five years.
To register online, visit: http://www.holsteinusa.com/shows/judges_preregister.html. For more information, contact Jodi Hoynoski at 800.952.5200, ext. 4261 or by email.
Hotel accommodations can be made at the Holiday Inn & Suites Stillwater, 715 South Country Club Road, Stillwater, OK 74074; phone 405.372.2445. Ask for the Holstein Association room rate of $90/night plus tax, available until March 13, subject to availability.
Looking ahead, the 2018 Holstein USA Judges Conference will be held with the Midwest Spring National Holstein Show in Madison, Wis.

BRATTLEBORO, Vt., January 27, 2017- Ever-Green-View My Gold-ET has set a new single-lactation national milk production record. My Gold-ET, bred and owned by the Kestell family's Ever-Green-View Holsteins in Waldo, Wis., calved at four years and three months, and set a 365-day record of 77,480 pounds of milk, with 1,992 pounds of fat and 2,055 pounds of protein.
Her production breaks the record set by Bur-Wall Buckeye Gigi, owned by Behnke family, Brooklyn, Wis., in 2015, of 74,650 pounds of milk in 365 days.
"My Gold-ET is an excellent example of what a Registered Holstein® cow can accomplish when excellent genetics, care, and management are combined. This cow excels in both production and type," said John Meyer, Chief Executive Officer, Holstein Association USA, Inc.
CEO Meyer continued, "When you see these two things blend together the way they do with My Gold-ET, it is no mystery why Holsteins are far and away the world's most popular dairy breed. The Kestell family and this wonderful cow are to be commended for their accomplishment."
By comparison, the actual production average for all U.S. Holstein herds enrolled in production-testing programs in 2015 was 24,958 pounds of milk, 920 pounds of butterfat and 710 pounds of protein.
Five-year-old My Gold-ET, who is scored EX-93, EX-95 udder, is sired by Braedale Goldwyn. Her extraordinary record is supported by several generations of remarkable performances. Her dam, Ever-Green-View My 1326-ET, held the national single-lactation milk production record from 2010 to 2015. My 1326-ET is sired by Stouder Morty-ET. Behind that is a VG-85 GMD Ricecrest Lantz-ET daughter, and then Ever-Green-View Elsie-ET (by Emprise Bell Elton), scored EX-92 2E GMD DOM, who has a best record at 4-09 of 52,580 pounds of milk, with 4.4 percent fat and 3.3 percent protein.
"My Gold-ET is an exceptional milk cow that comes from a line of strong genetics. When we produce offspring we never plan on setting another record. Setting a record while surpassing her dam is amazing to me. There is no doubt in my mind that genetics play a role," explains Tom Kestell.
Kestell says that they have been working with this cow family for over 30 years, and have several offspring on their farm. My Gold-ET is the seventh generation to carry the Ever-Green-View prefix. They have marketed many members of this family that have gone on to do well for others, carrying on the family tradition of excelling in both type and production. Six out of the eight age divisions of milk production records for 2016 are held by Ever-Green-View Holsteins.
Ever-Green-View Holsteins is owned by Tom and Gin Kestell. They milk 94 cows with a BAA of 111.4 percent, and all but three cows are Excellent in the udder. Ever-Green-View's Rolling Herd Average is 44,122 pounds of milk, 1,680 pounds of fat, and 1,362 pounds of protein.

BRATTLEBORO, Vt., January 23, 2017- Holstein Association USA will host its 2017 Member Update Meeting on Friday, February 24, from 7:15 a.m. - 10:15 a.m. at the Hilton Scranton Conference Center in Scranton, Pennsylvania.
Highlights of the meeting will be the State of the Association address, an update on Holstein Association products and services, as well as a financial report. The presentations will be available on the Holstein USA website and YouTube for all that are unable to attend.
All dairy enthusiasts are invited to attend this meeting, scheduled to start at 7:15 a.m. at the Hilton Scranton Conference Center. For further information, contact Jodi Hoynoski at 800.952.5200 ext. 4261, or by email.

®